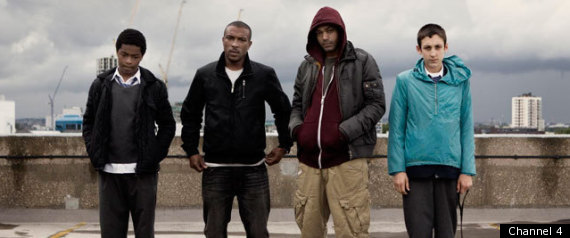 This past week I have stayed in to catch Top Boy, a new thrilling and raw four-part drama about young lives lived on the edge in east London - an honest and gripping rendition of inner-city drug and gang culture.
The series is based around the lives of 2 main characters, Dushane (Ashley Walters) and Ra'Nell (Malcolm Kamulete)
The Plot: The story is based around the life of thirteen-year-old Ra'Nell (Malcolm Kamulete) who lives on Summerhouse high rise estate in London's Hackney. When Ra'Nell's single parent Lisa collapses in the street and is admitted to hospital to cure her own drug addiction her friend and case-worker Leon (Nicholas Pinnock) visits Ra'Nell to tell him that he will not go into care as long as he stays of the streets and out of trouble. Ra'nells story is interlinked with local drug pushers Dushane (Ashley Walters) and Sully (Kane Robinson) who have a desire to make money and 'run tings' on the estate. The 4 part-episode drama sees Dushane and Sully climb up the drugs hierarchy but not without a few challenges. Dushane and Sully find themselves in some sticky situations as they are robbed after a 'snake' from within their circle informs their rivals the London Fields Gang and their gang leader Kamale (grime mc Scorcher) about their drug hideout leaving them in debt to and at the mercy of their boss,drugs lord Bobby Raikes (Geoff Bell). Dushane and Sully recruit Ra'Nell's best friend Gem (Giacomo Mancini) as a peddler whom they think is the 'snake'. Dushane wants to become the Top Boy but he begins to realise that it comes at a price as his best friend Sully's spontaneous and messy actions create even more problems for his quest to the top.
UrbanVoice UK's opinion: A grippy and gritty version of growing up on a London estate. The story line is simple but displays great emotion within the characters. There are some great moments within the series like when a certain characters' 'best friend' is found hanging and when the story line touches upon mental health issues. This is a well thought out and realistic account of the drugs hierarchy and the level of temptation for kids growing up around drugs and violence. It is great to see Kane Robinson better known as grime mc Kano trying his hand at a spot of acting and also great to see Ashley Walters back on our screens. This 4 part drama is gripping and definitely worth a watch. My TV schedule feels a bit lost without it now...
UrbanVoice UK Score:
4/5
You can catch Top Boy on Channel 4's 4OD:
http://www.channel4.com/programmes/top-boy/4od